Welcome to Doodle Dandy Goldendoodles,  located near  Mystic, Connecticut. Our founder, Linda, has been working with dogs for 50  years having  traveled across the USA & Canada showing purebred dogs (shelties) with her aunt starting at  12 years old. As an adult, she  bred miniature poodles, graduated from Connecticut K-9  in Newington, CT, and eventually opened her own grooming shop. It was in that career that her passion for  goldendoodles began… Today she partners closely with a small circle of long-time breeders who share the same passion, vision, and values. Also, Linda's daughter and grand daughter, who have been involved with dogs their entire lives, play a huge part in our success.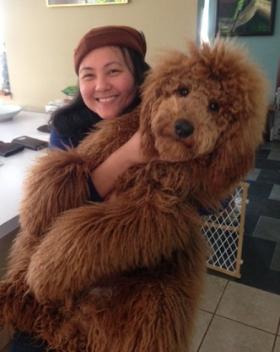 We believe that quality produces quality. Therefore, we carefully select breeding dogs that fit our criteria:
(1)Intelligent  
(2) Even Tempered   
(3)Balanced 
(4)Genetically Sound  
We believe in health testing our dogs before they are bred.
We do not believe dogs should live their lives in a kennel and  we purposefully keep a SMALL POPULATION so the dogs can comfortably
share our homes as  members of our family. We retire our females at  around 5 years old, so they can enjoy a long, relaxing retirement with a
family of our choice.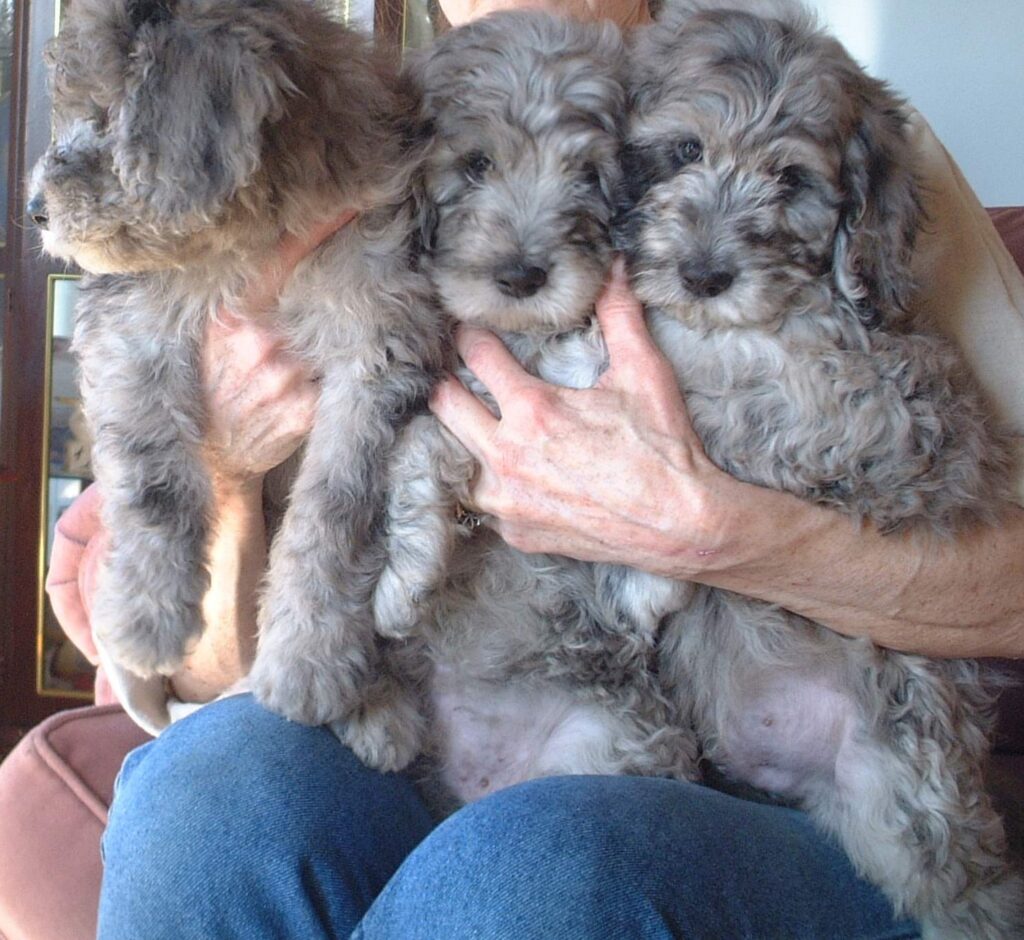 **ONE OF THE ORIGINAL BREEDERS   OF  MERLE  
GOLDENDOODLES  IN THE ENTIRE   UNITED STATES**
**THE FIRST BREEDER OF MERLES ON THE  EAST COAST**
Our puppies are born in the heart of the home where, from day one, they are handled daily. They spend their first formative weeks acclimating to the hustle of a noisy family. When they are a bit older, they can step outside in the fenced area for a short time, and learn the feel of pottying with grass under their feet. No matter what any breeder claims, it is impossible to FULLY housebreak a puppy until it is old enough to have full bladder control(about 3 mths.), but we can give them a sense of what is expected of them!  We also will begin calling your puppy by its name, if you have chosen one.  We're often told that our puppies are fast learners and we attribute this to  good genes, early socialization, and the specialized neurological stimulation techniques we use (see PUPPY page).
Doodle Dandy offers You QUALITY at competitive prices. A bargain puppy or a puppy purchased from a pet store, puppy mill, or puppy broker may soon end up costing you way more than you bargained for….in vet bills, heartache, and headaches! We offer our two-year genetic health guarantee with confidence.
When you think you are ready to make a lifelong commitment to one of our babies, please check the PUPPIES  page for more information and photos of available puppies.